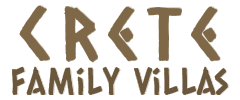 Villa Eleftheria's private pool
Living area in Villa Kalithea
The villas overlook a valley of vineyards and olive groves
Breakfast on your terrace
Views from the villas towards the coast
Villas Irini (right) and Kalithea (left)
Villa Eleftheria's pool at sunset
Luxury Villas in the heart of the Cretan countryside
Enjoy the comfort, style and privacy of your very own holiday villa!
Set amidst gloriously unspoilt countryside, yet only 15km from the sparkling Mediterranean coast, Villas Eleftheria, Kalithea and Irini offer the perfect environment for a truly relaxing break away from the package holiday crowds.
These three detached villas stand in a prime position on the edge of the small and authentic village of Pendamodi in the very centre of Crete, a location that is as tranquil as it is convenient for exploring the countless attractions of this most diverse and fascinating of Greek islands. In the summer months, the villas' co-owner lives on site and is happy to provide any local information or assistance.
Each of the villas has been individually designed in traditional style but incorporates a high level of modern comfort, not to mention its own good-sized swimming pool, and uninterrupted views over rolling hills, extensive vineyards and ancient olive groves. In addition, there is a separate studio-cottage which can be used as additional accommodation with any of the villas, or rented independently.
For more information, please contact us by email using the link at the bottom of this page.